Hatch Talks Investments, Trust at Local Events for Entrepreneurs
October 16, 2017—
October has been a busy month for the Bird Dog team so far.
Co-founder and managing partner, Chad Hatch had the opportunity to address local entrepreneurs and business people at both 1 Million Cups and the 2017 Innovation Expo.
On October 4, Hatch presented at the Sioux Falls chapter of 1 Million Cups.
1 Million Cups is a nationwide organization dedicated to promoting the spirit of entrepreneurship by connecting and engaging like-minded business people within their communities.
The Sioux Falls chapter meets on Wednesday mornings at 9 a.m. for a short presentation, Q & A, and networking.
Hatch offered listeners a brief overview of Bird Dog's history, after which he fielded questions from community members eager to learn more about the investment process.
---
"Trust is key. You're always going to run into conflict in private equity, so how do you protect yourself? Trust."
—Chad Hatch, on trying to read a potential deal
---
Local entrepreneur and investor, Matthew Paulson, asked Hatch how he knows if a prospect has what it takes to be successful.
"I typically know within the first three minutes of meeting someone," Hatch said. "I ask myself, 'Do they have a teachable attitude?' They must be flexible, but strong. Someone with a vision and a plan."
But the main takeaway from Hatch's presentation was the importance of trust.
"Trust is key," Hatch said. "You're always going to run into conflict in private equity, so how do you protect yourself? Trust."
The topic came up again on October 12, at the Innovation Expo, a conference dedicated to connecting entrepreneurs and innovators with investors and venture capitalists.
Hatch sat on a panel with two other local investors, Blaine Crissman of South Dakota Equity Partners, and the aforementioned Paulson, of the Falls Angel Fund.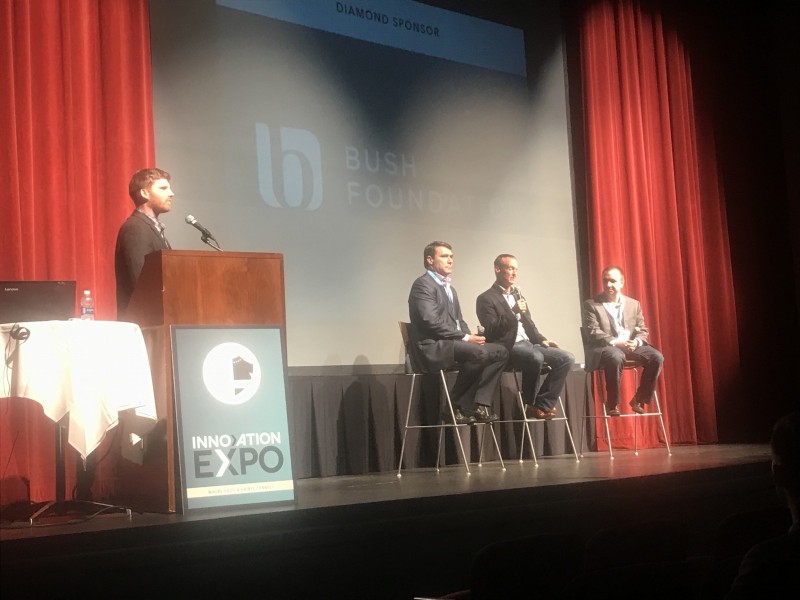 After an afternoon of presentations from local and regional entrepreneurs, as well as new business pitches from area college students, Hatch, Crissman and Paulson discussed their various approaches to investing.
Bird Dog's trust-centered philosophy toward both partners and investors is built on a diligent selection process that consistently puts people first.
Regarding that selection process, the panel responded to a question from a Lake Area Tech student who asked if people with community college or tech school backgrounds were at a disadvantage when it comes to securing funding.
"I don't really care what degree you have," Hatch replied. "I want people with grit."
Chad spoke on a panel at the @InnoExpo today on start-up companies seeking capital. pic.twitter.com/Jdhv4Xmg14

— Bird Dog (@birddogequity) October 12, 2017
He also emphasized the importance of seeking mentorship and coaching as an entrepreneur.
"If you're getting into business to be your own boss, that's the wrong idea," he said. "You will always have a boss."
Whether that "boss" is an investor, a client, or someone else involved in the business, a teachable attitude and willingness to be flexible is key to developing trust.
Learn more about Bird Dog's philosophy here.